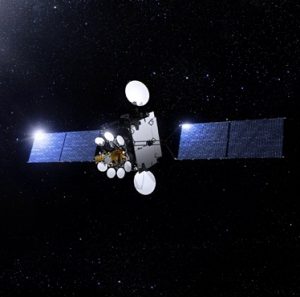 Athena-Fidus (Access on THeatres and European Nations for Allied forces – French Italian Dual Use Satellite) is a satellite system for "broadband" communication services for civil and military uses by the government, developed by the Italian Space Agency (ASI) and the Centre national d'études spatiales (CNES) within the framework of cooperation agreements signed by the Italian and French space agencies and Ministries of Defence.
Athena-Fidus is a telecommunication infrastructure which can ensure availability and autonomy in situations of national emergency: after more than 10 years since the de-orbiting of Italsat F2, Italy is equipped again with its own Ka-band satellite telecommunication system, targeted at institutional and government services. This allows to fill a gap with all the other big European countries, that had emerged over time, and to give independency back to Italy in this sensitive and strategic industry. There will be important applications of this complete national coverage: health and school services, civil protection, safeguard of the territory and, more in general, e-government services.
The system, developed by Thales Alenia Space and Telespazio, is based on a geostationary satellite which operates in Ka and EHF band, implementing Italian and French independent, dedicated and proprietary communication missions. It's a medium-size satellite (3 T) and about 3 Gbps of transmission capacity.
Thales Alenia Space, in a temporary joint venture with Telespazio, is in charge of the development, the manufacturing and launch of the satellite. Telespazio manages the launch services, the LEOP (Launch and Early Orbit Phase), the IOT (In Orbit Test) stage and took part in the manufacturing of the ground-based segment.
The Italian payload consists of dedicated repeaters and antennas for the civil/institutional and military missions. The pool of antennas includes 2 two fixed side antennas (one at 30/20 GHz for civil/institutional users and one at 44/30/20 GHz for military users) and 2 rotatable antennas at 30/20 GHz, to guarantee broadband telecommunication services in all the visible hemisphere from the geostationary orbit and to support Italian military, institutional and humanitarian missions abroad.
Star and mesh network topologies will be made available to institutional civil users, under the Italian national coverage. In addition to the national coverage in Ka and EHF band, targeted communication channels with star and mesh network topologies will be made available to military users, within mobile coverages and between different mobile coverages. Such architecture provides a high degree of flexibility thanks to the coexistence of single and double-jump channels, which are compatible with the most advanced technologies based on DVB-S2 and DVB-RCS standards for the supply of landline and mobile communications.
The satellite was launched on February 6th, 2014, from the space centre of Kourou, French Guyana, and will have an expected operating life of more than 15 years. Athena-Fidus completed the LEOP stage (Launch & Early Orbit Phase), an essential step towards its full operation, on February 17th, 2014.