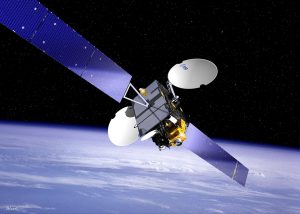 Artemis (Advanced Relay and TEchnology MISsion) is a European Space Agency telecommunication satellite, launched on July 12th, 2001, from the spaceport of Kourou, French Guyana.
Its main task was acting as a repeater for the other satellites in orbit, in order to improve the speed and quality of transmissions.
Artemis was the first satellite to be reprogrammed in orbit, and also the first to be placed in a geostationary orbit 36.000 km away from Earth, thanks to its ion thruster. During its operating life, it provided connections to all the ESA ATV (Automated Transfer Vehicle) missions headed towards the International Space Station.
The Italian Space Agency was one of the main supporters of this programme for the future of telecommunications.