Satellites with masses lower than 500 kg are usually identified as small satellites and classified according to their mass as: 
picosatellites < 1 kg

 

nanosatellites < 20 kg

 

microsatellites < 100 kg

 

minisatellites < 500 kg

 
The mass limit that separates the categories of nanosatellites and microsatellites, originally set at 10 kg, has reached in recent years 20 kg and even more, to keep up with the ever-increasing complexity of platforms conventionally considered "nanosatellite". However, it should be noted that to date there is not a universally accepted subdivision by mass of these categories of satellites. The scheme shown below was proposed by JPL and is also commonly used by our agency.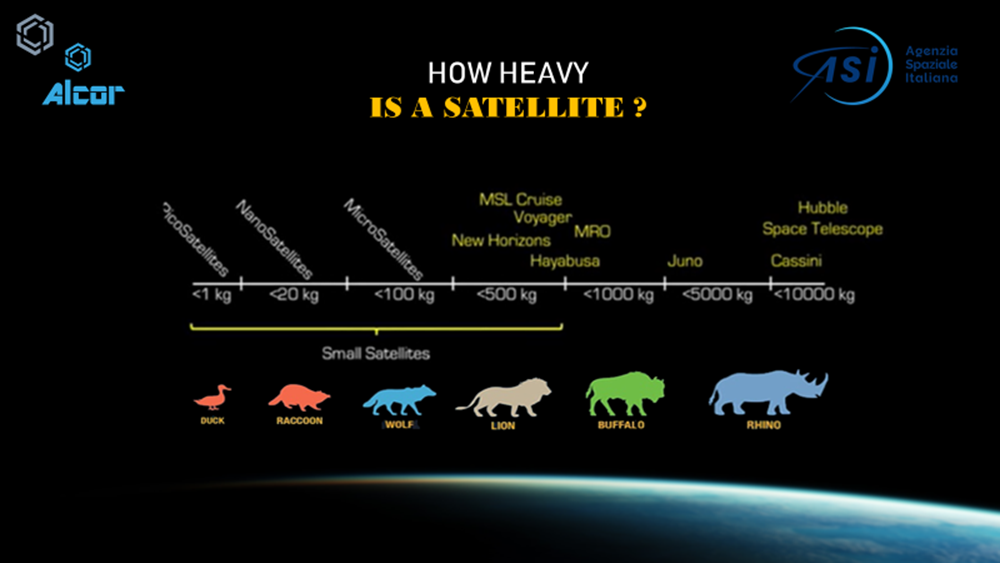 As part of the micro and nanosatellites category, another definition is identified for the so-called CubeSats, particular micro and nanosatellites, based on one or more standard units, commonly named "U", with dimensions of 10x10x10 cm and masses of about 1-2 kg. The CubeSat standard has been introduced for the first time at the end of the 90s by CalPoly and Stanford University for educational purposes. After the first CubeSat's launches in 2003, the CubeSat standard has been more and more frequently adopted, passing from preventively educational use to progressively more complex missions, from Earth observation to telecommunications, up to astrophysics and planetary exploration.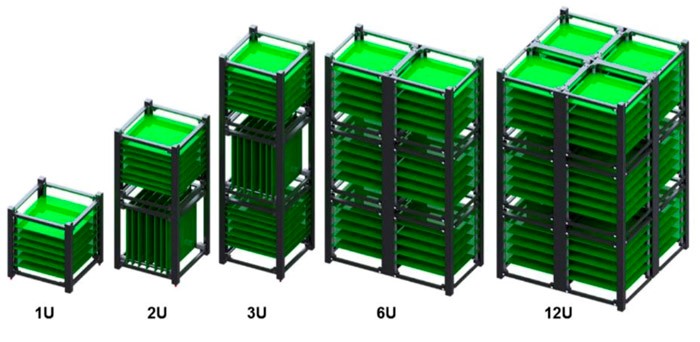 Micro and nanosatellites have characteristics of low mass, high standardization and intensive use of commercial components, which allow for reduced costs and rapid development times. These aspects, together with more frequent and less expensive launch opportunities, increase the possibility to accessing space programs to universities, research centres, small and medium-sized enterprises, as well as emerging countries, contributing significantly to the so-called phenomenon of the "democratization of space". 
Furthermore, micro and nanosatellites are extremely versatile and can be used for multiple purposes such as in orbit demonstration of new technologies and mission concepts, experimentation in a space environment characterized by microgravity and radiation exposure as an alternative to what is currently carried out on the ISS; they can be used as payloads, aboard larger probes to provide additional measurements to support the main mission and finally as alternative platforms or to support larger satellites in the traditional sectors of Earth observation and telecommunications, where a deployment in constellations can offer unique potential to achieve global coverage and low revisit times at reduced cost. 
The Italian Space Agency, which has been committed for years to promoting missions with nano- and micro-satellite platforms and related enabling technologies, set up a unit belonging to the Programs Directorate dedicated to these missions in 2020 to best capitalize on the accumulated know-how and investments in the sector.