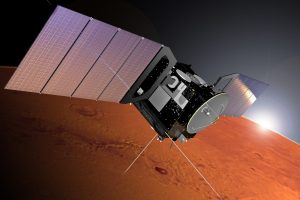 Subject line: Exploration of Mars
Responsibility: ESA mission
Date of launch: 2003
End of mission: Originally 2012 – currently ongoing
Description
Mars Express is a "Flexible Mission" of the ESA New Horizon scientific programme. It was launched on June 2nd, 2003, with a Soyuz/Fregat launcher and reached Mars about six months later. The insertion into the Martian orbit happened on December 25th, 2003; subsequently, a further period of 5 months was planned for the commissioning activities before the operating phase, which ended as planned with the exception of the MARSIS instrument, due to problems related with the satellite safety during the opening manoeuvre of the antenna which were solved only starting from July 5th, 2005, with the beginning of operations also for this instrument.
Scientific goals
Due to its size, internal activity level, age of superficial structures and atmospheric density, Mars is a body which occupies an intermediate position between the big terrestrial planets (Venus and Earth) and the small bodies such as Mercury, the Moon and the asteroids. Therefore, the exploration of Mars is key to better understand Earth in the framework of compared planetology. The goals of the mission are the medium-scale mineralogical characterization of the surface, the study of the atmosphere and atmospheric circulation, the study of the interaction between the atmosphere and the solar wind and the measurement of the ablation rate, the high-resolution photographic mapping, also in stereo, of the surface and the study of sub-superficial structures to search for water and ice.
Italian contribution
Among the instruments aboard the probe, the ASI provided two instruments with a national PI: the Fourier PFS spectrometer to study the atmosphere and the MARSIS (Mars Advanced Radar for Subsurface and Ionosphere Sounding) subsurface radar, manufactured with the contribution of the NASA/JPL. Furthermore, the visible part (VNIR) of the OMEGA spectrometer (with a French PI) and the electronics of the ASPERA imaging instrument for energetic neutral atoms are part of the Italian contribution. One of the interdisciplinary scientists (IDS) is Italian too, and there are Italian scientists also within the HRSC (high-resolution stereo camera) team.
International agreements
A Memorandum of Agreement on Marsis is in force with the NASA.