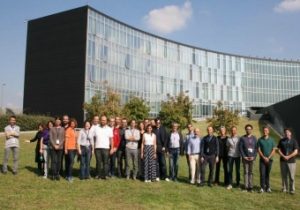 The ASI Space Science Data Center (SSDC) is a multi-mission, multi-length, and multi-messenger research infrastructure. SSDC is engaged in conducting science operations and processing, storing and data distribution, with a view to providing support for space science missions in which Italy is a partner.
The Center was established in late 2016 resting on the legacy of the ASI Science Data Center (ASDC), which in 2000 was built on the experience of the BeppoSAX Science Data Center from the 1990s.
The SSDC's primary goal is to grant the scientific community access to its mission-based data covering a wide range of fields from universe observation, to the exploration of the Solar System, and Earth observation. The Center provides interactive web tools to secure efficient access to and immediate use of the data.
The Center is continually evolving. It keeps the permanent scientific archive of past science missions, develops and maintains data archives for current and future missions, and  contributes to the development of specific software for data processing and analysis.
Moreover, the SSDC has developed a Multi-Mission Interactive Archive (MMIA 2.0) that provides a single interface for the information related to the processing of data from the various missions. It is a remarkable feature the scientific community can benefit from, and also a major tool ASI can implement to define and monitor the activities of the community.