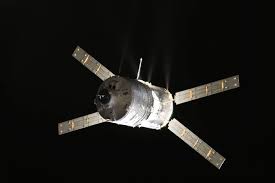 Atv (Automated Transfer Vehicle), was a space vehicle developed by the ESA in the framework of the Iss programme. The launch of the first Atv mission, Jules Verne, took place on March 9th, 2008.
The vehicle had the task of carrying supplies to the Iss, without being monitored by the ground-based control centre. A second task was bringing the Iss back to the right orbit, since the station loses altitude due to the friction with the terrestrial atmosphere. Lastly, after being filled with the waste accumulated on the station, it was left to burn above the Pacific Ocean during the re-entry in the atmosphere. The Atv programme ended on February 15th, 2015, with the re-entry in the atmosphere of the fifth and last scheduled mission, the Georges Lemaître.
Rcs Energia signed a 40-million euro contract with one of the main subcontractors of Eads, the main subcontractor of the vehicle, whereas Thales Alenia Space is in charge of manufacturing the Russian docking system, the supply system and the equipment control system. Lastly, Thales was in charge of manufacturing the pressurized section in the Turin factories.