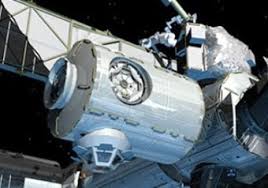 It was carried into space in February 2010, aboard the Endeavour Shuttle, in the framework of the STS-130 mission. 
Compared to the two Unity and Harmony nodes, the Node-3 is equipped with some special facilities, such as a tapìs-roulant and rowing machine for daily training sessions, a highly-advanced air reconditioning system and a system to distillate urine and transform it into drinking water. Furthermore, a special window named Cupola (see relevant sheet) which provides a breath-taking view of space and Earth and allows to operate the robotic arm more accurately. 
With the Node-3, Italy can boast of having manufactured the 50% of the habitable pressurized space of the whole Space Station. This additional "room" allowed to increase the number of guests on board, from three to six or seven astronauts. Tranquility, along with its predecessor Node-2 (manufactured by the ASI and orbited by Paolo Nespoli in autumn 2007) and the Cupola, is the last exchange element between the NASA and the ESA: the latter had committed to provide the three components in exchange for the transportation by the Americans of the Columbus laboratory, which docked with the ISS in 2008. 
Tranquility is equipped with the most complex air revitalisation system ever produced: through the electrolysis process, the system recycles the water used by the crew and generates the oxygen they need to breathe, while the carbon dioxide will be disposed of and eliminated in space. Technology, as well as opening the way to future long-term missions on the Moon and on Mars, may have an interesting influence also on the recycle of water on Earth.