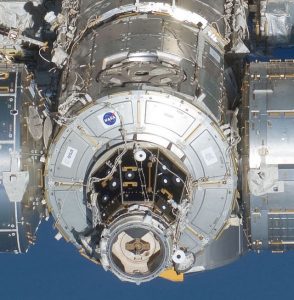 Harmony was developed for the NASA under the responsibility of the Italian Space Agency by European industries (Alcatel-Alenia Spazio in the first place) in the city of Turin, through a contact with the European Space Agency.
The module supplies air, electricity, water and other essential systems for the vital support of the astronauts. The mounting of the module by the NASA was the last stage of the manufacturing of the basic American part of the space station, according to the 2003 project: it acted as a link between the European Columbus laboratory, the American Destiny module and the Japanese Kibō laboratory.
The Node-2 was launched on October 23rd, 2007, aboard the STS-120 Discovery mission. The Italian astronaut Paolo Nespoli was one of the crewmembers. Its mass is about 15.300 kg, it measures 7.2 meters and has a 4.4 diameter. Its mounting expanded the available space for the astronauts, which shifted from a typical three-person house to a five-person house.
When the Space Shuttle carried the Multi-Purpose Logistics Modules to the station, they were connected to Harmony's lower hatch, where they remained for the entire duration of the mission. Nowadays, the Node's hatches are used to dock with the Dragon and Cygnus commercial vehicles and the Japanese HTV cargo ship.