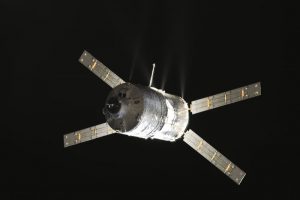 The launch of the first ATV mission, known as Jules Verne, was carried out on March 9th, 2008, at 6:03 GMT; the rendezvous with the ISS was successfully completed on April 3rd, after some test manoeuvres in free flight and the conclusion of the Space Shuttle STS-123 mission. 
The ATV was more than 10 meters high with a 4.5 diameter and could board up to a 9-ton load, a triple capacity in comparison with the Russian Progress shuttle. The pressurized section, manufactured by Thales Alenia Space, was based on the Multi-Purpose Logistics Module (MPLM), built in Italy and previously used as a Space Shuttle transportation module.
The essential task of this big automatic shuttle was supplying, theoretically without being monitored by the ground station, the space station with water, air, food, fuel, replacement parts and scientific equipment. Another task was bringing the ISS back to the right orbit, as the station loses altitude due to the friction with the terrestrial atmosphere; finally, after being filled with the waste produced and accumulated on the station, it was left to burn above the Pacific Ocean during the return to atmosphere.  
In the framework of the ATV programme, 5 vehicles were launched: each of them was named after a different European person who stood out in the field of science. The ATV programme ended on February 15th, 2015, with the destructive return to atmosphere of the fifth and last scheduled ATV-005 mission. 
List of ATV missions
N°
Name
Launch (UTC)
Docking with the ISS (UTC)

 

 Decoupling (UTC)
Destructive return (UTC)
1
ATV-001 Jules Verne
09/03/ 2008, 04:03
03/04/ 2008, 14:45
05/09/2008, 21:29
29/09/2008, 15:30
2
ATV-002 Johannes Kepler
16/02/ 2011, 21:50
24/02/ 2011, 16:08[15]
20/06/2011, 14:46[16]
21/06/ 2011, 22:44[17]
3
ATV-003 Edoardo Amaldi
23/03/2012, 04:34[18]
28/03/2012[19]
28/09/ 2012, 21:46
03/10/ 2012, 01:30
4
ATV-004 Albert Einstein
05/06/2013, 21:52
15/06/ 2013, 14:07
28/10/2013, 08:55
02/11/2013, 12:04
5
ATV-005 Georges Lemaître
29/07/2014, 23:44
12/08/ 2014, 13:30
14/02/ 2015, 13:44[20]
15/02/ 2015[21]