Space Pioneers Association is proud to announce the second edition of the Italian Space Design Competition (ITSDC), a student competition focused on space exploration and innovation, to be held from the 10th to the 12th of March 2023 in Milan, Italy. This competition is open to all high school students in Italy, regardless of their background, and presents a one-of-a-kind opportunity for students to demonstrate their creativity and problem-solving abilities within the realm of space.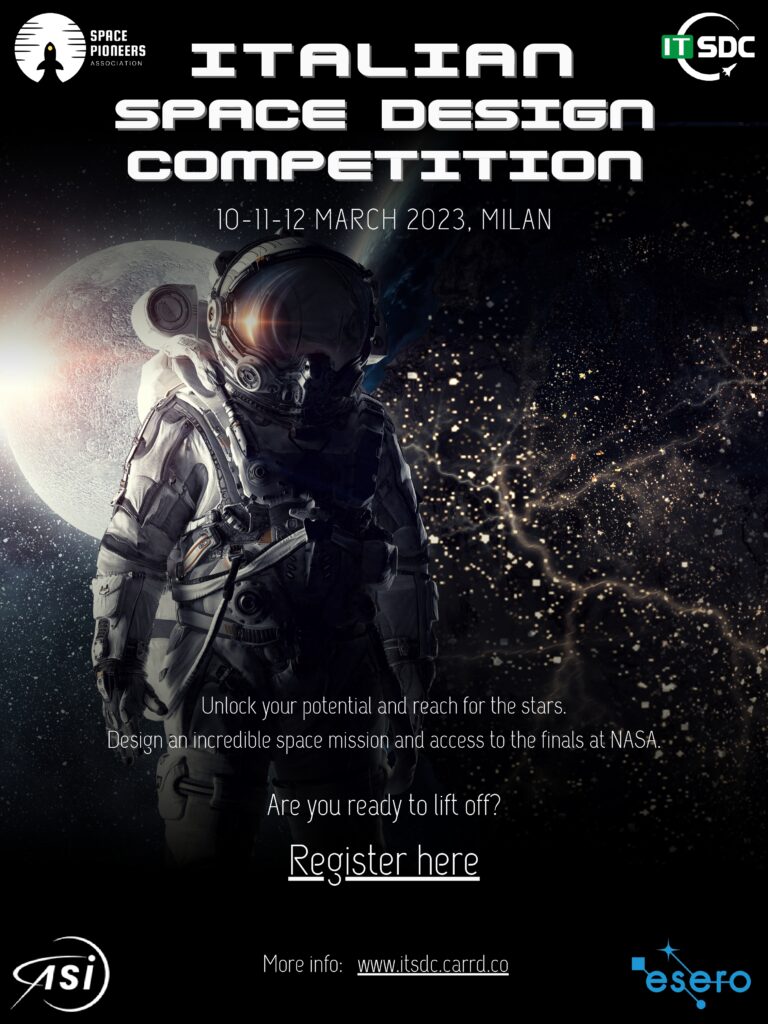 Participants will be organized into teams, each representing a simulated company tasked with designing a space mission set 100 years in the future, in the year 2123. They will be challenged to design and develop a highly ambitious and difficult full-scale space mission, focusing on new technologies, the study of celestial bodies, and the future of space travel. Participants will need to take into consideration all aspects of the mission, including essential elements such as water recycling, food and medicine production or space suit design.
We encourage students to bring their innovative ideas and unique perspectives to the competition.
The winning team will receive the chance to advance to the European rounds and world finals in Summer 2023 at the NASA Kennedy Space Center in Florida, USA. One Golden ticket covering all the travel and accommodation expenses for the finals at NASA is available for one of the participants.
The deadline for registration is the 3rd of March 2023
Volunteering positions in person and online are available.
Competition website: itsdc.carrd.co
We encourage students to seize this opportunity to reveal their skills and make a meaningful impact on the world of space exploration. We look forward to the outcome of this competition and the fresh perspectives that the students will bring to the challenges at hand.
The competition will be conducted entirely in English and is free.
For more information, please visit spacepioneers.it or contact missioncontrol@spacepioneers.it