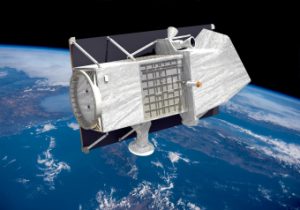 The high-resolution space and spectral satellites have changed the way we consider the environment and the environmental phenomena. This is the case of PRISMA (Hyperspectral Precursor of the Application Mission), a cutting-edge Earth observation system, equipped with electro-optical tools, which integrates a hyperspectral sensor with a medium-resolution camera, sensitive to all colors (panchromatic). 
This way, the satellite is not only able to distinguish the geometric characteristics of the observed objects, but also the chemical-physical composition of the surface of the Earth. In fact, each material has its own spectral signature, an actual fingerprint: a unique combination of colors, named as spectral bands. PRISMA's electro-optical equipment is able to analyze this fingerprint from its orbit at an altitude of 615 km, by carrying out a state-of-the-art monitoring which will be able to identify an object, or trace the characteristics of an area under observation. Specifically, such equipment is made up of an imaging spectrometer, capable of acquiring VNIR (Visible and Near-InfraRed) and SWIR (Short-Wave InfraRed) products, with a 30-meter spatial resolution, and a panchromatic camera with a 5-meter spatial resolution. 
PRISMA, which started its journey in space on March 22nd, 2019, aboard a VEGA carrier, completes the current offer by the Italian Space Agency in the context of Earth observation, which so far had been essentially based on the Synthetic Opening Radars of the COSMO-SkyMed constellation, with an innovative hyperspectral optical sensor, able to provide a unique informative contribution for different applications.
PRISMA, owned by the ASI, represents an excellence derived from our country's scientific and industrial capacity to team up. The satellite was manufactured by a Temporary Grouping of Companies, headed by OBH Italia, responsible for the mission and management of the three main segments (land, flight and launch) and Leonardo, who created the hyperspectral electro-optical instrumentation, as well as different on-board equipment, such as attitude sensors and solar panels. The launch with the VEGA carrier, produced by AVIO, further defines the national profile; it's a ESA carrier, but has a predominantly Italian conception and construction. The mission control center was set up by Telespazio (Leonardo 67%, Thales 33%) at Fucino, while the data acquisition and processing will take place at the Mater Space Center. 
The satellite was launched from the Kourou base and is now operational, giving an essential contribution to the monitoring of pollution and environmental changes and supporting the management of natural resources and emergencies.
PRISMA data access
The users can request data through the PRISMA portal.
A presentation of the PRISMA mission is available to help the users. 
Watch the video