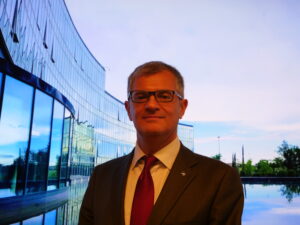 The new President of the Italian Space Agency, Giorgio Saccoccia, took office formally during the first meeting of the Board of Directors.
"Space – he wrote in a message sent to ASI personnel- is living a time of amazing opportunities and has an ever-growing impact on our lives: each of us at ASI is lucky to be able to personally contribute to this challenge".
Giorgio Saccoccia was born in Belluno on January 11th, 1963, and holds a Degree in Aerospace Engineering from the University of Pisa and a Master's Degree in Business Administration from the Webster University of Leiden (Netherlands). From March 1997 to January 2003 he was Head of the Electric Propulsion Section of the ESA and later, until today, he was Head of the Propulsion and Aerothermodynamics Division of the ESA. In the same period, he also acted as Deputy Director of the Mechanical Engineering Department of the ESA (January 2016 – November 2016).
Giorgio Saccoccia is Associate Fellow of the AIAA (American Association for Aeronautics and Astronautics). He is a full member of the International Academy of Astronautics (IAA) and member emeritus of the French Aeronautics and Aerospace Society (3AF).
With regards to the publications set out in the Legislative Decree n.33/2013 and subsequent amendments, please see the link.