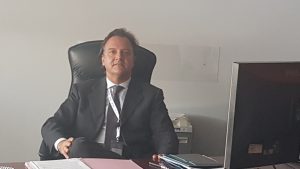 He will remain in charge until the comparative procedure aimed at identifying suitable candidates for the post of Director General of the Italian Space Agency (notice n. 9/2019) is completed.
Doctor Grillo, who was born in Catania on October 12th, 1971, holds a Degree in Economics from the University of Catania and a Degree in Business Administration from the University of Rome Tel.Ma Sapienza. He holds a Master's Degree in "Auditing and Internal Control" from the University of Pisa and attended the advanced training course on "Ethic & Anticorruption Management", run by the University of Rome "Tor Vergata", and the postgraduate course "New code of public contracts", run by the University of Rome TRE.
He is a certified public accountant, auditor and credit broker and is a member of the professional association of Independent Bodies for Performance Appraisal.
Doctor Grillo has a proven experience of more than 20 years in the field of public administration, gained by working, respectively, at the Ministry of Economy and Finance (State General Accounting Department), as an Officer for the Carabinieri Armed Service, at the ISTAT (Department of the National Statistical System and Central Regional Offices Coordination Department) and finally, since January 2006, at the ASI. Specifically, at the ASI he was in charge of the Management Control Unit, Planning and Infrastructures Department and the General Management Office for Performance Appraisal.
Furthermore, he acted as Deputy Director General on several occasions and was interim Head of the Contracts Unit and the Management Office for Conservation and Statistics. Since March 25th, 2013, he is also Head of Corruption prevention and Transparency.
With regards to the publications set out in the Legislative Decree n.33/2013 and subsequent amendments, please see the link.